JEWELLERY FOR YOUR WATER
If you research ways to increase the vibration of water you will soon discover Dr. Masaru Emoto's book, New York Times Bestseller "The Hidden Messages in Water". Crystal images by Dr. Emoto's laboratory verified that water treated with VitaJuwel Gem Vials regains its original crystalline structure. German scientists have proven that water becomes more alkaline and oxygenated with VitaJuwel Gem Vials.
65% of the human body is water. Nothing impacts our wellbeing more than the quality of the water we drink.Water is the elixir of life! Why is drinking sufficient healthy and vital water so important?
Because water …
… assists in weight loss.
… strengthens your immune system.
… can slow down the aging process.
… impacts all of your body's functions.
… noticeably increases your quality of life!
With that being said we would like to take you on a journey of the scientific facts and gifts of an essential and vital fluid  WATER, combined with Crystals creates a powerful result so we will start and take you in a magical journey with facts and information that will change the course of your life  that I have experienced my self first hand.  Lets start with why Water and the discovery that Dr Emoto has proven in the Lab to be a tangible reality.
WATER'S SECRETS
Water is not just H2O! World-famous scientist and bestselling- author Dr. Masaru Emoto discovered that vivid water features a sublime crystal silhouette. The photo to the left, taken by the HadoLife lab, which was co-founded by Dr. Emoto, shows a crystal of regular tap water.
After 7 minutes with a VitaJuwel gemstone vial, the crystal changed its shape completely (right photo), becoming harmonic and vital. VitaJuwel – gemwater has a crystal structure that is comparable to pure spring water!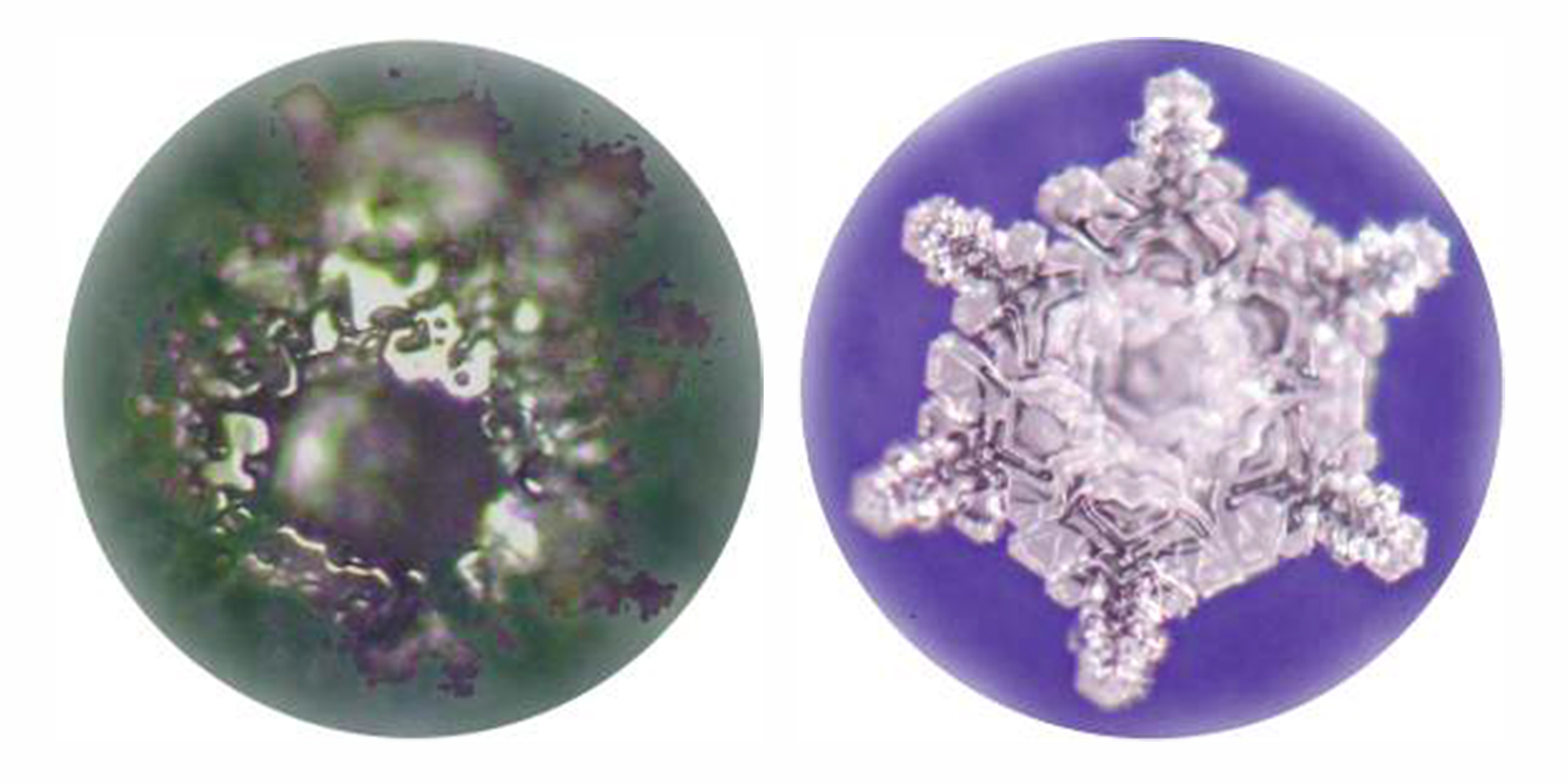 Using gems to vitalize water is an age-old tradition, dating back to ancient Greece. Gems naturally emit a radiation that is able to inspirit water, making it more lively and enjoyable. Eight years ago, VitaJuwel reinvented this method. Hygienically. Naturally. Today VitaJuwel is the world's only manufacturer of gemstone vials to enhance the vitality of drinking water in a natural way to the level of pure spring water. VitaJuwel products are designed with devotion in the German alpine foothills, tested by friends all over the world and traditionally hand-crafted by master glassblowers in Bohemia in a patented, artisanal method.
The gems don't have to come in contact with the water. VitaJuwel vials act like a natural prism for the crystals' radiant energy. This can even be tasted by sensual water lovers! Like in the natural cycle of water, with VitaJuwel gem vials the natural element stone regenerates the natural element water.
Now we are going to touch the surface on the History and properties of Crystals, I grew up loving Stones and was lucky to be introduced at a very young age to the amazing world of Crystals and YES I not only believe in their properties I have worked with them for most of my life and feel their properties every time I connect with them, so with that being said when I discover VitaJwel system and on top connected to Dr Emoto's believe I became a true fan of it. I highly recommend the beautiful products that offer the connection to the world of Water empower with Crystals. WOW! what a treat, we don't have a part in the company or financial gain, our passion for what we believe surpasses that love for the products, we use them and wish to share them with you, family and friends so we can all benefit from this amazing system with so much integrity and so well intended. Here we go, we are not going to be to extensive in the description due that this post well become enormous and most peoples attention span is not so long, any way we will place links so if you choose to learn more you can take your own journey.
According to: http://www.crystalage.com/crystal_information/crystal_history/
The first historical references to the use of crystals come from ancient the Ancient Sumerians, who included crystals in magic formulas. The Ancient Egyptians used lapis lazuli, turquoise, carnelian, emerald and clear quartz in their jewelry, healing rituals and invocations. They also carved grave amulets of the same gems and place them in the Tombs with their dead. The Ancient Egyptians used stones primarily for protection and health. Chrysolite (later translated as both topaz and peridot) was used to combat night terrors and purge evil spirits. Egyptians also used crystals cosmetically. Galena (lead ore) was ground to a powder and used as the eye shadow known as kohl. Malachite was used in a similar manner. Green stones in general were used to signify the heart of the deceased and were included in burials. Green stones were used in a similar way at a later period in Ancient Mexico.
The Ancient Greeks believe that a number of properties to crystals and many names we use today are of Greek origin. The word 'crystal' comes from the Greek word for ice, as it was believed that clear quartz was water that had frozen so deeply that it would always remain solid. The word amethyst means 'not drunken' and was worn as an amulet to prevent both drunkenness and hangovers. Hematite comes from the word for blood, because of the red colouration produced when it oxidizes. Hematite is an iron ore and the ancient Greeks associated iron with Aries, the god of war. Greek soldiers would rub hematite over their bodies before battle, purportedly to make themselves invulnerable. Greek sailors also wore a variety of amulets to keep them safe at sea.For example, hematite as iron compound was rightly associated to the planet Mars, whereas malachite as copper ore to the planet Venus. Today we know that, for instance, Mars is the planet with highest iron content in the Solar system, so we need certainly more than superstition to correctly understand these lores and myths of the ancient peoples.
Here are some links to Cristal books and web references:
http://www.crystalage.com/online_store/books_charts_953.cfm
http://www.crystalflame.com/crystal-healing-info/crystal-healing-history/
https://quantumstones.com/ancient-cultures-used-healing-crystals-stones/
The world of Crystals is so vast that we are going to do more in a Post of its own, we wanted to connect them with the water and provide you with information to aid the understanding of  why the products are put together like this.

VitaJuwel ViA is not just a simple glass bottle with gemstones. It has two openings with an exchangeable gem pod attached to the lower opening. Twist off one gem pod and attach a different one to experience the full scope of VitaJuwel gemwater. By the way: The two openings also make cleaning VitaJuwel ViA as easy as 1-2-3.
Enjoy gem water wherever and whenever you like with VitaJuwel ViA, your personal gem water bottle! Prepare your own spring fresh gemwater for on-the-go. On your way to work, while shopping in the city or at the beach – VitaJuwel ViA is your perfect companion for extraordinary trips. VitaJuwel ViA and the gem pods are available in 17 fascinating blends.
With every sip of water you drink, YOU decide whether it is dull and dead or VITAL AND FRESH!
BELIEVE IT OR NOT – IT WORKS!
German scientists have proven that water becomes more alkaline and the oxygen content increases with VitaJuwel gem vials. The tests showed: With VitaJuwel, drinking water reaches a quality level otherwise only found in natural spring water."
JEWELRY FOR YOUR WATER!
VitaJuwel is the most hygienic and efficient method to prepare gemwater. And it's easy! Just place a VitaJuwel gem vial in your drinking water for 7-10 minutes and enjoy gemwater, the true elixir of life!
fairly-traded, conflict-free gems
lead-free Bohemian glass
handcrafted in the European Union
designed by glass artists in the German Alps
results verified by lab analysis
tested by doctors & naturopaths
worldwide patented manufacturing method
several fascinating gem blends
Lets talk a bit about the power of Crystals weather  you are wanting an energy boost, need an assist in grounding, looking for a manifesting tool, or something else that you are seeking whatever your purpose there is a healing stone for you.  No gemstone has a singular purpose, multiple healing qualities are housed within a single stone. First you must find the crystal that has the Universal Life Force energy that is appropriate to your intentions. Each crystal has a crystal energy lattice, a color ray of influence, and an earth power derived from its chemical makeup.
Gemstones and crystals have traditionally been used in a variety of ways to restore balance and harmony to both the physical and spiritual elements of our lives.